Spareribs all you can eat!
Heerlijk en onbeperkt spareribs eten!

Daarbij heeft u de keuze uit twee soorten marinades voor de spareribs;
een heerlijke Jack Daniels marinade of de welbekende pittige marinade.

En al dit lekkers voor maar  €21,50,-!
Wij hopen u snel te zien!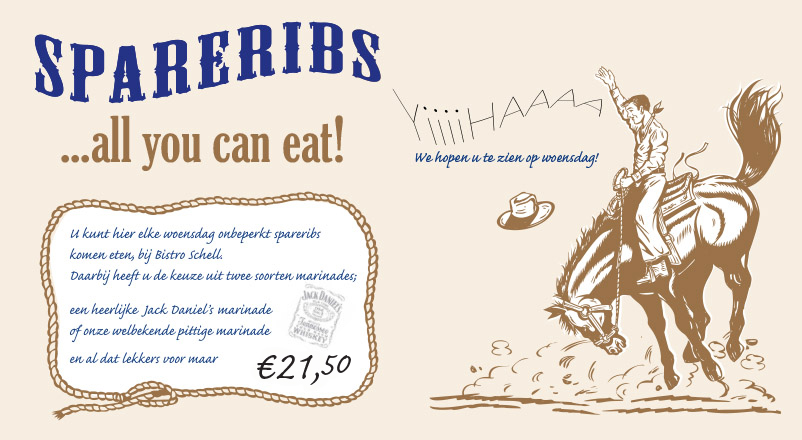 Spareribs all you can eat!

Zin om te komen eten?
Dan kunt u bellen met 077 – 351 58 30 om te reserveren.
Zoeken
Categorieën
Archief
Contact
Bistro Schell
Kwartelenmarkt 12
5911 HZ Venlo
Telefoon:
077 - 351 58 30
Openingstijden
Maandag

gesloten

Dinsdag

vanaf 12.00

Woensdag

vanaf 12.00

Donderdag

vanaf 12.00

Vrijdag

vanaf 12.00

Zaterdag

vanaf 11.00

Zondag

vanaf 14.00
Gezelschappen
Een zakelijke lunch of gezellig met een groep bij ons dineren? Het kan allemaal.

Voor meer informatie zijn wij telefonisch bereikbaar onder Tel.: 077-3515830.

Wij maken graag een afspraak met u om uw wensen door te spreken.